ConcertVR ICO Review
Today, with the emergence of avant-garde technologies such as Virtual Reality (VR).Cryptoscreener takes a look at concertVR, a blockchain based platform that seeks to build the ultimate concert experience, wherever and whenever you want it. This extremely innovative product brings you, as the name suggests, a VR experience of a concert. concertVR has an ICO that starts the 15th of April.
Sold out concerts? Missing a concert due to illness? Both are a thing of the past.
Have you ever wanted to see an A-list performer perform live? Chances are that the concert you wanted to attend was sold out within the first three minutes and you completely missed the chance to experience this concert. Imagine being one of the few people fast enough to buy a ticket, but you get a heavy flu on the day of the concert, and you have to choose between going to the concert despite being on death's door or kissing the chance to see your idol perform goodbye.
With concertVR, all of this can be avoided. You can simply strap on a VR set, head over to the concertVR platform and get yourself access to the concert you desire.
It's not just a video to watch with VR glasses.
concertVR goes much further than just the video of the band/artist playing on stage. The platform gives you a unique level of immersion with the concert that you are experiencing. If you were to move your head while watching a concert on concertVR, your view and the sound on the VR set automatically adjusts as if you were right there in the crowd.
Introducing concerTVR
With VR, we no longer have to travel halfway across the globe to experience an event when we can do it right in our bedrooms. And this is exactly the premise that concertVR is built upon. By creating the first blockchain based cross-platform marketplace for high-quality
VR content from the music and entertainment sector, concertVR strives to revolutionize the entertainment industry one concert at a time.
Statistics show that audiences attending concerts and festivals are reaching record highs and are expected to generate sales of over $1.1 billion annually in Germany alone. Nevertheless, this potential is still not fully reached. Due to popular demand, concerts of artists like Bruno Mars and U2 are usually sold out in hours, if not minutes. This results in thousands of potential concertgoers unable to purchase any tickets.
But what if it is possible to sell an unlimited number of tickets for a live concert? The music industry could generate a substantially higher revenue stream if a larger audience is reached.
With concertVR, all this is possible.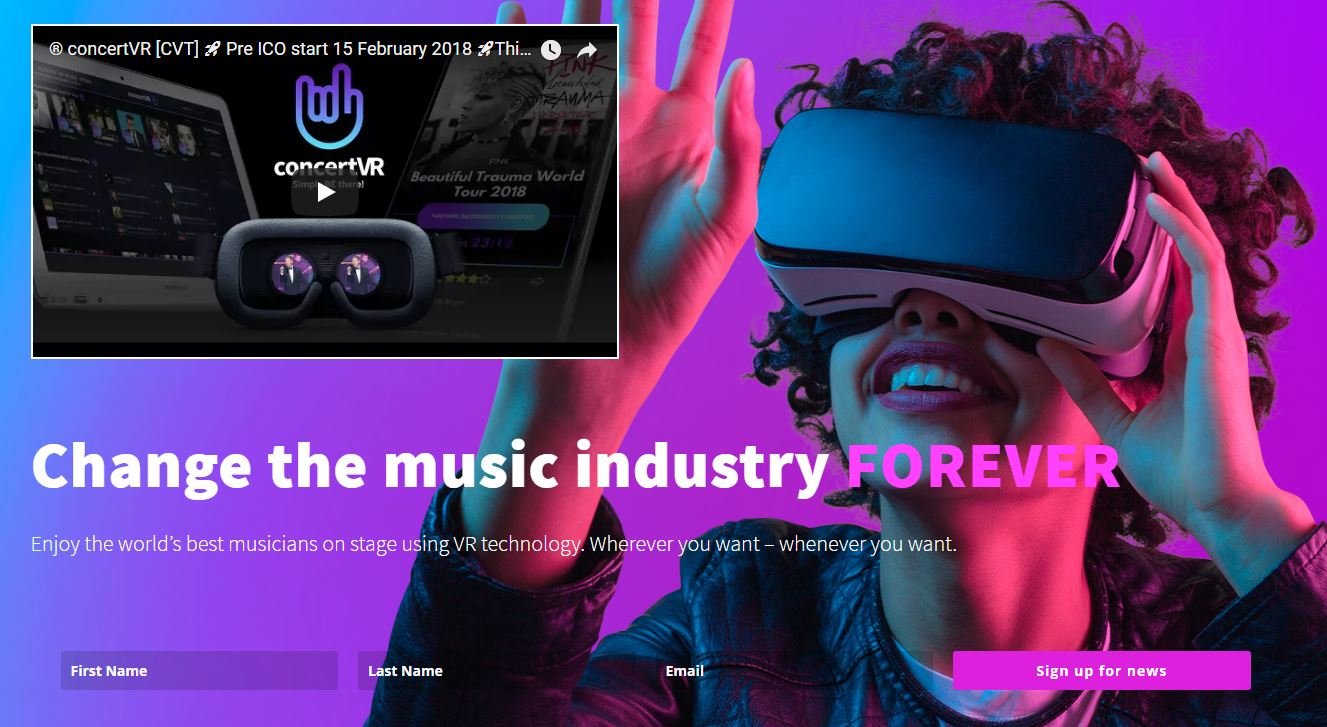 It is the goal of concertVR to establish long-term contracts with concert organizers and artists which shall guarantee a never-ending stream of live shows, covering all tastes from alternative and classic to pop and rock.
The key features of concertVR include:
Users will get to enjoy concerts in virtual reality or on demand
Once they buy the concerts tickets, they get to enjoy the content on different platforms including on their smartTV, browsers, smartphone or VR glasses
Users get to choose the camera perspective they want to experience the concert from
One can enter a coupon code and get to select the content they want for free from a wide selection
Viewers can tell their friends what concert they are watching using social media
Users get to know their friend's reaction in real time
Users can invite friends directly as the concert is going on and chat with them.
The CVT token is a utility token that will be used to enable different transactions on the site. The ICO will take place on 15th April . The total tokens that will be sold during the public sale are 220,000,000. Each of the tokens is valued at 0.00015 ETH. The CVT token can be bought using Bitcoin or Ethereum. The site is also set to start accepting credit cards and payment via PayPal soon. The CVT token will be listed on various exchanges for trading.
Blockchain for Security, Smart Contracts for Transactions
All the data on concertVR will be stored on a decentralized cloud-based data bank, which will be held on the net by nodes. This makes trade repositories as well as user data immutable and therefore will be safe against frauds and hacking.
The ConcertVR Solution
ConcertVR wishes to make this possible by ensuring fans get to enjoy real-time live concerts from all over the globe at the comfort of their homes. Fans also get to choose their position in the hall even sitting right next to their favourite artists. Fans also get to share the good news of which concerts they are watching on their social media sites. The artists and sellers of the tickets will also be able to sell an unlimited amount of tickets for existing live concerts and on-demand content.
Technology
The company has built a prototype that enables mobile users to watch concerts using 360 degree cameras, and also technologies like Google Cardboard. The company has mentioned that the current version of the software also enables the use of VR headsets such as Occulus Rift, HTC Vibe, and others.
ConcertVR has also mentioned that they have developed an eye tracking technology that would enable the user to be "anywhere in the concert hall". The company currently provides three points of view:
The Stage: The users will feel what it's like to be a rockstar by essentially looking at the audience and seeing what artists see
The Audience: Users will be able to experience the concert from the usual point of view as the audience
The Back: This section is a general way of seeing the concert as a whole and experience its size
The CVT Token
TOKEN NAME: CVT
Total tokens: 400,000,000
The fixed cost of a token: 0.00015 ETH
Pre ICO had a hard cap: 1,200 ETH
Main ICO will lead to a market capitalization capped at 60,000 ETH
Pre ICO sold out in less than 4 days
Main ICO will last for 31 days or until hard cap has been reached
Token Distribution
Based on their white paper this is how their token distribution looks like:
55% sold during token sale
18% used to develop the platform and maintenance
12% will be given to advisors
10% held by the company
5% will be reserved for partnerships with artists and others
The biggest challenges the company will face will be to convince users that they will continue to grow as fast as they need to, and the fact that they are arbitrarily fundraising at a valuation of over $50M USD pre-revenue, may bring considerable difficulties to the companies ability to fundraise.
Conclusion
ConcertVR's proposes an argument that most of us will agree on, which is that the role of AR/VR technology in digitization of human experience will be massive in the next decade. We can see evidence of this trend in any meaningful analysis of the market, including:
The
investments into AR/VR
New Hardware enabling the technology
Better software for AR/VR
Many more companies developing solutions
The trend towards a digitized and personalized lifestyle.
The biggest question for concertVR will be to demonstrate that they will play a significant role in the industry and also be able to achieve that long term as more players enter the market. It is currently unclear how they will answer that, but if they do, they are in for a massive and very profitable markets.
The fact that they were able to quickly sell out their Pre-ICO is already a good indicator that this company will success at their ICOs, but we are curious about their ability to perform once their launch their platform, and most importantly, their ability to get big name artists signed and using it.
More Information:
https://bitcointalk.org/index.php?action=profile;u=994347